Funded by the Wellcome Trust, this was a two-month scoping project, identifying content, identifying (and disposing of) duplicates and other erroneous material, tackling urgent preservation issues and creating a robust framework to allow this significant collection to be properly catalogued and digitised (as appropriate) in a future project. The collection consists predominantly of various gauges of open-reel films and accompanying audio tape (with smaller quantities of video cassettes and folders of photographs and papers).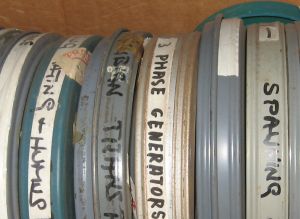 Due to the format of the items in this collection, it was necessary to work with specialists and specialist equipment in order to meet the preservation needs of this material while content was identified and appraised.  As such, a relationship has been developed with Scottish Screen Archive (part of the National Library of Scotland), which facilitated and supported the project.
A rudimentary list of film titles, content and approximate running times was created to serve as an interim finding aid. A preservation assessment was used to prioritise repackaging, based on need, within the available budget and to further work that is required was identified. 
By the end of the project, the most pressing preservation needs were addressed and enough information gathered to identify its main content.  This now facilitates a more detailed analysis of the collection and its potential for digitisation.
The project ran for two months from late August 2011.